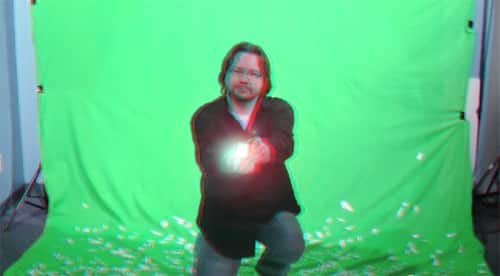 So, from the michaelkammes.com camp: big news – Kate Miller has agreed in principal to spend the rest of her life with me, and that suits me just fine.  It's a good thing, or so I'm told.  I personally think she's nuts for spending 3 years with me, let alone the next 70.  But as soon as ink hits paper, she's mine and I'm hers, and our geek powers shall set you free.
And while I've known for a while she was the one, how I was going to do it that would be good fodder for dinner parties and for post production industry acronym discussions – that angle eluded me.  GEEK, NERD, + MARRIAGE PROPOSAL Google searches seemed to pop up cool ideas, but nothing that married (ahem) my life choice of Post Production with my life mate choice of Kate.
Then it dawned on me: 3D.  It's future viability in this world aside, it offers a technical and logistical challenge, and would be something she wouldn't see coming.  2 things which could be a whole 'lotta fun to exploit.
http://michaelkammes.com/wp-content/uploads/2012/09/wedding-proposal-in-3d.jpg
276
500
Michael Kammes
Michael Kammes
2012-09-30 18:43:59
2016-11-26 15:16:19
3D Post Production: My Marriage Proposal