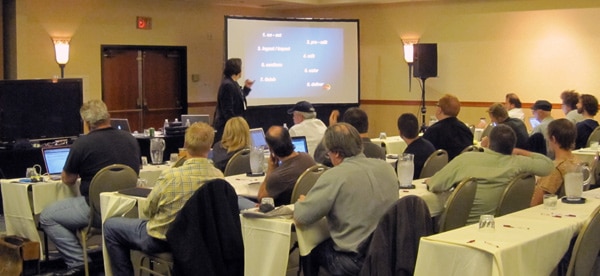 07 Nov

3D in Post: Avid vs FCP

Unfortunately, we're looking at the lesser of 2 evils.

No mainstream editorial platform truly understands 3D natively. Through trickery, masking, and video hide-and-seek, we can manipulate our editing platform of choice to limp along for stereoscopic editorial. I'm a firm believer in the right tool for the right job, and choosing the tool requires a fair amount of research.

We'll examine the 2 top choices in today's professional post arena: Avid's Media Composer and Apple's Final Cut Pro. While Avid has a built in ability for 3D tomfoolery, Apple must rely on 3rd party products.

For this analysis, I am using Cineforms Neo3D for FCP, as it allows for a complete (broadcast quality or greater) baseband and file output. I will also be relying on the Avid sanctioned stereoscopic workflow when utilizing Avid for a 3D project. While Cineform does have the ability for interop with Avid, a major pain point for productions (and deadlines!) are unexpected issues when going "off book". Whenever possible, I endorse playing by the rules – unless time, budget, and patience allow for the alternative.

I've narrowed the criteria to 6 facets: Cost, Quality, Workflow, Speed, Flexibility, Location.

Lets start with what ends up being the last questions answered…and more often than not, the deciding factor: Cost. (see also: the race to zero).

.:: Cost ::.

Let's go on the assumption that for each of the solutions – Avid and Final Cut Pro – you use the same CPU, hard drives, beefy graphics card, additional RAM, 2 computer monitors and a small, fast RAID array. Ballpark $15,000 for the system, and $20,000 – $25,000 if you get a 3D capable monitor. All of this is before you even begin to edit. Below are ballpark prices:

Avid:

Media Composer Software and separate Matrox MXO2 Mini (output functionality only) = $3,000
or
Media Composer Software with Avid Mojo DX Hardware = $8,000
or
Media Composer Software with Avid Nitris DX Hardware = $14,000

Apple:

Final Cut Pro Software: $1,000
AJA Kona 3: $2,000
Neo3D Plug-in: $3,000
———–
$6,000

Avid wins on the lowest end. However, the Matrox MXO2 Mini cannot be used for ingest in Avid (Avid imposed limitation), does not provide SDI output, and is not compatible with all frames rates that Avid can handle. I personally feel that theAJA Kona 3 is fantastic bang for the buck, despite the $3,000 delta in pricing. Although it does not have HDMI output, The AJA Kona 3G (shipping around the end of November 2010) remedies that shortcoming. A Final Cut Pro solution wins out as well on price at the next 2 levels.

Winner: Final Cut Pro

.:: Quality ::.

To clarify, this is visual quality throughout the editorial and finishing process; not the finished product alone.

Avid requires the use of Metafuze to create stereoscopic material. Within each video stream for each eye, Metafuze takes 2 frames (left eye and right eye) and compresses these into 1 frame. This compression allows Avid to see 1 video track. In order to do this, Metafuze throws out half of each frames information. This – even at it's highest quality – it not fit for broadcast, and necessitates an offline / online workflow. So, while the end product looks good, it requires several extra steps. The one shining point, is that if the resolution for output is above 2K, Avid has the DS product. While the output quality from the DS may be the same as other finishing systems, a Media Composer offline to a DS for the online stays in the Avid eco-system, which minimizes accidental metadata color hiccups between multiple systems.

Final Cut Pro, utilizing Neo3D, can retain full frame sizes up to 2K, all while utilizing the Cineform codec. The Cineform codec is not only better than Pro Res, but has been used for several years as a DI codec and is commonly used as the codec of choice for restoration. Using the AJA Kona card, users can retain this quality all the way to layoff / export. Thus, the FCP workflow keeps an extraordinarily high level of quality throughout editorial. No offline / online workflow needed (up to 2K). However, if you desire your project to above 2K, then you must generate a cutlist and move it and the media to a finishing system, which puts you in the relatively same position as Avid; i.e. multiple systems to complete the project.

Winner: Final Cut Pro up to 2K resolution, Avid for all other resolutions.

.:: Workflow ::.

Avid's Metafuze reads most camera formats. This one simple application creates the media and metadata (ALE's) for Avid. Since Avid also has Symphony as well as DS, little, if any, metadata is lost when moving between applications, as it is an Avid workflow from start to finish.

As two slight asides, Avid's HD Codec – DNxHD – is 100% free to encode and decode with and takes less CPU horsepower to encode & decode with than the Cineform equivalent. In addition, when using the Avid Mojo DX or Nitris DX for I/O, a user eliminates incompatibilities or issues with 3rd party hardware. When I am attempting to hit a deadline, the last thing I need to deal with is driver mismatches and conversions.

Neo3D for Final Cut Pro, usually requires 2 programs prior to the footage even getting into FCP. Re-Master, to convert raw footage into the Cineform Codec, and FirstLight to "wrap" the previously Re-Mastered created Cineform left and right files into 1 video file, plus adds RT convergence and color tools – something Metafuze cannot do. Apple does not have a finishing solution, thus the project and media needs to be output and then opened (interpreted) by another system, or, First Light has to be purchased and loaded on the Finishing system to continue with the adjustments made during editorial. Thus, while Neo3D does give more functionality during editorial, it's still a several step process with multiple manufacturers (hardware and software), and thus more chances for loss of metadata and breakdowns in the process.

Winner: A toss up, and the toughest judgment call on the list. If onlining, Avid. If not, FCP.

.:: Speed ::.

Metafuze is slow. Really slow. And only on PC.

Neo3D lights up the processors. However, as previously mentioned, it's usually a 2 step process. However, I still find the 2 step process is slightly faster, AND it can be done on a Mac or PC.

Winner: Final Cut Pro

.:: Flexibility ::.

When using Metafuze, you choose the 'flavor' or 3D: Side-by-side, over/under, interlaced, etc. This cannot be changed without re-encoding.

The Neo3D plug-in for FCP allows for side-by-side, over/under, interlaced, not to mention, onion skin, anaglyph, etc – all on the fly. In addition, active metadata allows for color adjustments and convergence – in real time.

Winner: Final Cut Pro

.:: Location ::.

Hollywood is still a predominantly an Avid town. Studios and post facilities infrastructure and existing workflow will probably be setup with Avid related machines, gear, I/O, SANs…not to mentioned editors. So, if you're working on a big budget feature, most likely Avid will be your weapon of choice.

If you're outside of Hollywood, or not working on a big budget film, FCP will probably be in your arsenal.

Winner: Avid for big budget, FCP everywhere else.

Feedback. Healthy discussion never hurt anyone!