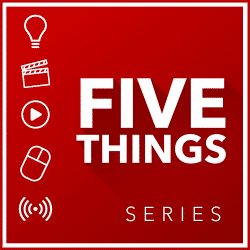 24 Oct

More tech Info: 5 THINGS!

Hello gang:

Need your tech fix? I've got just the thing – a new web series. It's called "5 THINGS", and it's is an independent web series dedicated to answering the 5 burning tech questions about technologies and workflows in the media creation space.  Tech stuff I dig, and how it's used. Concepts, workflows and products.

Check it out, and let me know what 5 THINGS you'd like to know about.