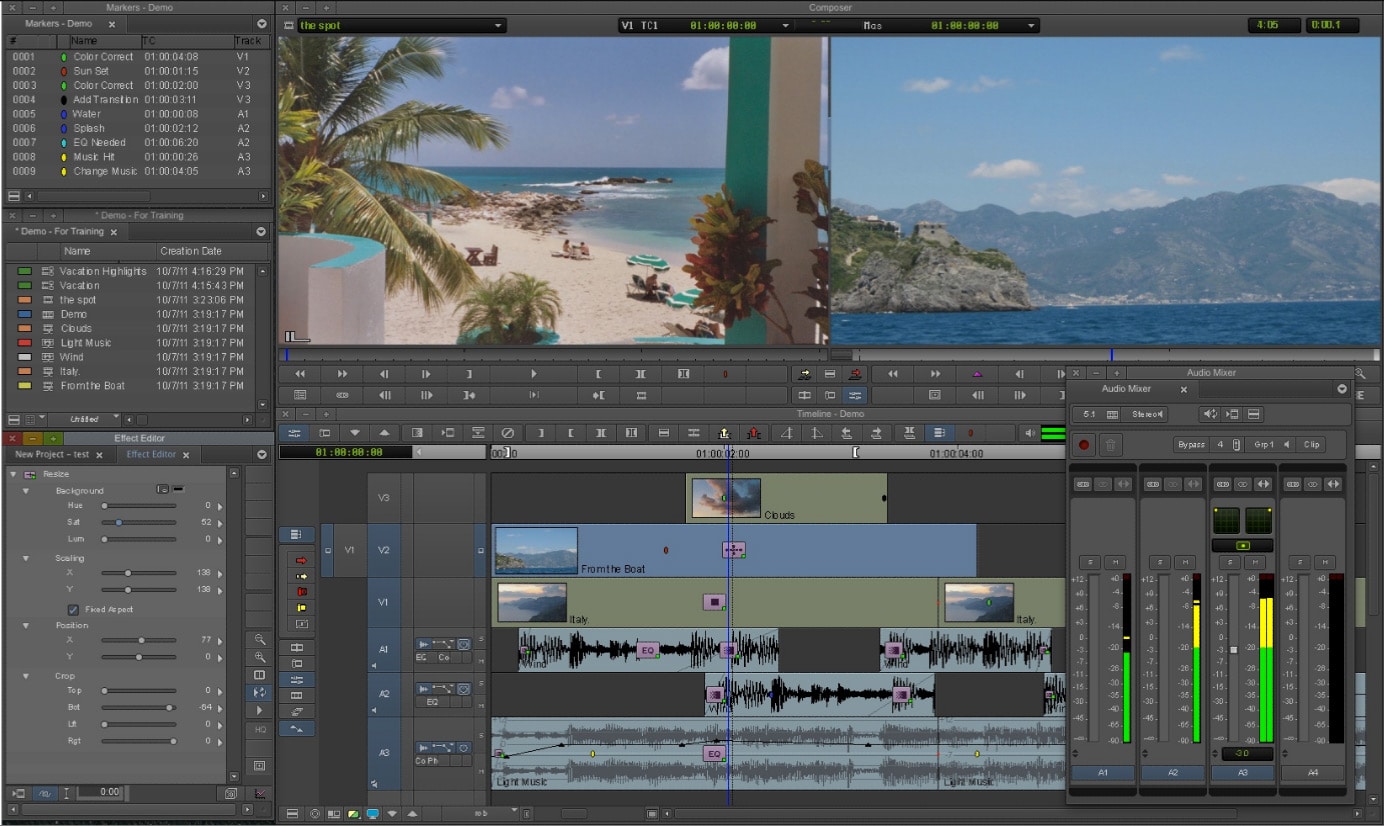 03 Nov

Avid Media Composer & Symphony 6.0 and You: New Features

We've got the purple kool-aid, and we've got the firehose: New. Avid. Releases.

Now that the cat is out of the bag, I can share with you dear readers a comprehensive list of what is new and groovy inside the latest offering from Avid.  Like what you see?  Join me for a more in-depth webinar on all that is contained therein plus a huge helping of bonus material on November 22nd.  More details here.

Until then, let's whet your appetite, shall we?

Announced today, Media Composer 6, Symphony 6, and NewsCutter 10 will begin to ship November 15th.  Lots of good stuff in this release, so in order to more easily digest them, I've organized them thusly:
Supported, Not Supported and End of Life
Top New Features
Other New Features
Pricing
Supported, Not Supported and End of Life
OS:  Windows 7 Professional SP1 64bit is supported, as is Mac OS 10.7 in a 64bit kernel.  However, early betas worked in 10.6.8, and the last beta I worked with recommends during the install process to move to a supported 10.7 OS, but the application will install under 10.6.8.  My performance, however, has been very poor.  I do not recommend it.  As always, stick with recommended configs.
CPU: specs have not changed much from what is already current with 5.5: the only difference is a 64bit OS, and of course, more RAM is recommended.  Avid has an up-to-date listing of what is current and is probably one my most visited sites: http://www.avid.com/US/products/Media-Composer/system-requirements
Storage: Fibre based Unity clients are supported with client versions v5.4 (Windows) and 5.5(Mac).  Ethernet Port Server clients are no longer supported.
End of Life: Nitris Classic, Media Composer & Newscutter with Adrenaline or Mojo SDI, as well as 32bit Media Composer, Symphony, and NewsCutter are EOL.  They will no longer be developed for.  MC 5.5 will be sold for a limited time to give users time to move to a 64bit OS and to possibly squeeze some last life out of the above products.
Top New Features
By far, the biggest news is the open I/O architecture.  From day 1, virtually every release of Media Composer has relied on Avid branded I/O.  And while this closed eco-system allowed for a high level of tight interoperability and thus increased performance, the sometimes hefty pricetag left many users out in the cold – or making sacrifices.  Incorporating 3rd party hardware has also been the #1 user requested feature to Avid.  Couple these factors with a large FCP user base with currently no I/O in FCP X, and you now have a perfect storm.
Avid's response:  Build in an open architecture and release an SDK for Media Composer which allows 3rd party companies to write plug-ins for Avid which allow their hardware to work in conjunction with Media Composer for ingest and output.
Those early adopters to the program are the usual suspects you'd come to find in the NLE realm:  AJA and Blackmagic.  Matrox, MOTU and Bluefish444 round out the group.
Each manufacturer is writing drivers for their own devices.  The list (as of now – check with Avid or the manufacturers for updates) includes:
AJA: Kona LHi, Kona 3, Kona 3G, IO Express
Blackmagic: UltraStudio 3D, Decklink, Multibridge, Intensity, H.264 Pro Recorder
MOTU: HDX-SDI, HD Express
Bluefish444: Create 3D Ultra, Symmetry (as of this writing, PC only)
Matrox: MXO2 Rack Max, MXO2 Mini & MXO2 Mini Max, MXO2 LE & MXO2 LE Max, MXO2 & MXO2 Max, Mojito Max (new!)
Again, I stress you consult with a reseller, I/O manufacturer or Avid to ensure your device is supported.
As many of you know, some of these I/O cards have typically required the user to access a control panel or separate app to further "instruct" the card what to do.  Avid has incorporated some of this functionality into the Avid capture tool with a gear icon which launches the hardware's I/O config.  I understand that this is further being developed by the 3rd party device manufacturers to minimize as much outside app intervention as possible.
Each device has their caveats and gotchas – especially with this first version, so I strongly suggest research prior to making an I/O decision.  I can say that the fine folks at Bluefish let me kick the tires with their Create Ultra 3D card, and the image quality was fantastic.  Their cards are really workhorses.
While we're on the subject of capture, another huge feature is the ability to capture into ProRes.  Yes, ProRes.  Proxy, LT, 422, 422 HQ and 4444.  And not only ProRes, but ProRes within an MXF wrapper. This allows the user to have the codec they dig, but also the enhanced media and metadata management ability of the Avid MXF wrapper.  However, this appears to be Mac only.  Preliminary documentation doesn't explicitly state this, but my PC version does NOT show ProRes as an available option for media creation or capture.  As a side note, those of you who rely on fast import to get DNxHD media into Media Composer quickly will rejoice in that I've found ProRes can be fast imported into Avid – just like it's DNxHD cousin.  No more lengthy transcodes on import or potential snafus with AMA.  Awesome.
It should be noted that the Avid Codec Engine (ACE) – the low level software which allows Avid to playback media (and thus not relying on the monster that is Quicktime) – is still hard coded to utilize DNxHD much better than any other codec you can throw at it.  Capturing (and playing back) ProRes is still using Quicktime as an intermediary gateway for encode / decode.  What does this mean?  DNxHD will still perform more efficiently within Avid than any other non-Avid based codec.
While on the subject of codecs, Avid has also introduced a DNxHD444 RGB codec for use within HD projects.  No longer is uncompressed RGB the only option.   This saves a ton of drive space and does not require nearly as much throughput.
Epic 5K files can now be used within Avid.  I can't say I've tried this (no Epic footage at my disposal) but I understand that currently the HDRx resolution is not supported.  While we discuss RED, Avid has added additional RED Source Settings. REDColor2, REDGamma2, REDLogFilm & White Balance are now available.  Yes, RED is the only codec that supports these source side features only.  Media Composer & Symphony are still locked to SD or HD frame sizes (no 2K, 4K, etc.) and thus the ability to reframe the HD frame size within the RED file frame size is still intact.
AVCHD – the tightly compressed HD codec – which was previously only available by (a very long) import process, can now be linked via AMA.  While this will be a great addition for some users, it should be noted that AVCHD is very CPU intensive.  Older CPUs will have some issues during playback. AVCHD is just a tough nut to crack.
Next, Avid has rewritten a good chunk of the software to the point where the application has now been ported over to function in a 64bit OS.  This means: more RAM is available for the application.  I've also noticed that Avid is now better utilizing multi core machines.  All my cores are lighting up significantly higher during playback.  During a difficult sequence, I saw my XW8600 hit 60% usage across all 8 cores, and comparable results on my MacPro 12 core.  This means less sit-and-wait edit sessions.  More power is never a bad thing, eh?
Next, a topic close to my heart: Stereoscopic.  Avid was the first NLE to have a complete 3D workflow.  Although it was somewhat kluge, it worked.
With 6.0, Avid has finally made 3D editorial in a single application a reality.  If you were at the Avid Technology preview at NAB 2011 (or watched the bonus material of my 'Stereo 3D Editing with Media Composer' webinar) you may have seen many of these new features.  In a nutshell, these features include:
Creation of a Stereoscopic project, along with the type of camera rig, is available when you start a new project – or, these settings can be invoked at any point within a 2D project.  As a bonus, stereoscopic video can be viewed in software only mode (via the NVIDIA graphics card) or via Avid I/O or  3rd party I/O.

3D editing is now (almost) as easy as 2D editing.  This includes mixing and matching of 2D, 3D and different frame rates in the same project.

Ability to take 'mono' files (single eyes) and 'gang' them within Media Composer in the form of a special clip pairing (think of it like a grouped clip) .  This can be done with any Quicktime AMA'd file, or with Avid MXF files – no longer a need for Metafuze for this process.  This is all dynamic – clips can be linked and relinked easily.

Stereoscopic aware text and effects.  When text or certain effects are placed on stereoscopic footage, MC applies these to each individual eye.  Spatial, temporal, color, depth and alignment adjustments are also available.

On the fly changing of the layout of the 2 eyes (SbS, O/U, etc) in the composer window AND on the output of your I/O device.  As a bonus, the Nitris DX allows for full frame ingest and output – full raster of each eye on discreet SDI spigots (dual HD-SDI). Be careful, other I/O each have their own Stereoscopic I/O restrictions.

The ability to purchase the new Avid Nitris DX Option card that gives the Nitris DX another channel of DNxHD acceleration to pair with the exiting built in channel.  These 2 cards when used in tandem allow for the aforementioned Dual HDSDI stereo capture.
Metafuze does still exist (It's code base comes from DS…DS is still around, isn't it?) and can be used for to transcode formats that Avid does not understand natively or via AMA – into DNxHD MXF files.
Further adopting the (former) Euphonix line of panels, the EUCON protocol for the Avid Artist Series Color panel is now available inside Media Composer & Symphony v6.  No more mouse dragging on the color wheel –you now have controls much more akin to the color grade surfaces you'd find in a color bay. Those of you who are using a Tangent WAVE panel may want to look into the COLOR panel – it blows the WAVE away. Plus, it looks cool.
Avid has also unveiled a new way of purchasing stock footage, audio & video plug-ins, acquiring support and training and even purchasing other Avid products: The Avid Marketplace.  From inside the Media Composer or Symphony v6 application, all of these items can be browsed and purchased with no need for a separate application.  If a user is interested in stock footage, users can download a proxy which they can work with, and Avid will automatically link to the high res media when it has been purchased and downloaded. Equity Motion and ITN Source provide the media content for the video libraries – and Flash 11 is required.
The UI has also received a much-needed facelift.  Changing layouts in any application has always been a sticky situation for a manufacturer.  Update it and you run the risk of alienating the veterans.  Leave it as it and your look becomes dated.  Avid has made a leap into the (current) new millennium, while retaining the same muscle memory needed to appease the dyed-ion-the-wool editors.
Changes include a sleeker grey color scheme and interface, along with some slightly redesigned icons, and colorful close / minimize / grow buttons on each window. AMA clips are no longer displayed as yellow, but rather appear as locked icon for audio and video.  Tabs are also dockable to their parent window.  Premiere and After Effects (among others) have done this for years, and helps to eliminate the space taken up by having dozens of bins open.  This is aided by the new ability to drag tools onto a single tab window.
Other New Features
This is by no means a complete list, but they include:
Symphony can now be run in software only mode.  Previously, a Nitris DX was needed to launch the application.  Now, Symphony can go with you on the road…for all of you that need secondary color correction when you're on a plane.
Geeks rejoice: Windows UNC paths are now supported!  This means all you AMA users who move your AMA bins and media around between Macs and PCs will now have less of a headache!   This, of course, goes on the assumption everyone remembers the limitations of FAT/NTFS/HFS/exFAT, eh?
The title tool is now a standalone app – however, it is launched WITHIN the Avid application.  It is a separate process.
XML Site settings.  As you launch or quit a project, the user settings have historically been stored into an AVS file.  Now, they are saved to an XML file.  While on the surface this means very little for the user (the only difference is the XML file takes a little bit longer to save) I like seeing Avid starting to use more XML – even in this limited fashion.
Relinking is now interchangeable between tape and file based media – which has been a bane for many of us that either work with legacy media and/or offline media which originate from tape.
Audio: 5.1 and 7.1 Surround capturing and importing (with a new surround panner) via baseband or import / AMA – which translate to Pro Tools.  Also, many other interoperability enhancements with Pro Tools, including Dolby E encode & decode plugins, and enhancements with AAF (or legacy OMF) exports.  Audio mapping via AMA has also been added.
True P Output mode via HDMI:  the Nitris and Mojo DX have never pushed out true progressive frame rates.  This meant a real time cross conversion, or a conversion device.  This is no longer neccessary.
Pricing:
Some massive price drops and new bundles:
Media Composer 6 and Mojo DX bundle = $4499
Media Composer 6 and Nitris DX  = $6999
Mojo DX standalone = $2999 (new)
Nitris DX standalone = $5499 (new)
Symphony Software = $5999
New Symphony Artist Package (Symphony software, Nitris DX, Avid Artist Color panel) = $13999
Media Composer 6 – Educational (4 years of free upgrades) =  $295
FCP v1-v7 Crossgrade is $1499 (now permanent)
A brand spankin' new version of Media Composer 6 is still $2499
Media Compose upgrade from Media Composer X.X is TBD (at least to me) at this time.  There will be tiered pricing (i.e. older versions pay more to upgrade than more recent versions of Media Composer)
And finally, there is now Volume licensing for EDU.
Over the past few years, Avid's releases have been timely, well thought out, and chocked full o' stuff that the industry has been clamoring for.  This release is no exception.  I expect after 6.0 has been out in the wild, and the first release hiccups (after all, this is a partly rewritten application with new open architecture – that's a lot to bite off in 1 release) have been remedied, this will be a fantastic tool to your arsenal.